The mobile Home Association (MHA)
Filling the gap in affordable, efficient, flexible housing
MHA represents the manufacturers of factory-made mobile homes and gives a voice to the people who live in them
Quick read on the RMA issue

In 1991, when the RMA was written, NZ was an egalitarian society where a solo mum on the benefit could buy a $75,000 home (building/structure) on the housing supplement (and was encouraged to do so).
With polarisation of NZ into a comfortable class and a struggling class, the need for chattel housing arose because it still costs $75,000 for a mobile home with landowners willing to host their chattel placement for a low weekly land rent.
RMA district and unitary plans change at a glacial pace, thus they have not kept up with this socio-economic change that bodes ill for NZ.
An open-minded council seeking to find an immediate way to do something about the affordable housing crisis can use this beneficial omission to act now. Take legal advice and then establish a mobile home group within council to implement an orderly way in which mobile homes can be parked on residential land as an interim solution.
The problem is how government is structured. In traditional Māori knowledge, everything in the world is believed to be related, but in government departments feel no connection to matters outside their domain. Thus, the emergence of a struggling class – people who cannot afford the basics in life because of the cost of housing – is not seen as a concern of the Planning Departments that issue resource consents.
In fact, there is very little planning done in local government. District/unitary plans are not responsive to changing conditions and the attitude of most councils is to just say no.
In the absence of open-mindedness, the recourse is to the courts.
In this web site, the legal arguments are set out. What is needed is a motivated party to advance the arguments and good lawyers to articulate it in court.
Most District and Unitary Plan have a beneficial omission, because they were written before the affordable housing crisis, thus they do not speak to mobile homes (residential box trailers). Almost all rules regarding residences include the word "structure" in their meaning. RMA s2 says "structure means any building, equipment, device, or other facility made by people and which is fixed to land…"
This distinction is not incidental. It lies at the foundation of property law. This was extensively examined by Sir John W Salmond, former Solicitor General of and Supreme Court Judge in NZ, who in 1902 wrote Jurisprudence. In §155. Movable and Immovable Property, Salmond explains the elements of immovable property (i.e. land), where he wrote
…all objects placed by human agency on or under the surface with the intention of permanent annexation. These become part of the land, and lose their identity as separate movables or chattels; for example buildings, walls and fences. Omne quod inaedificatur solo cedit [Everything which is erected on the soil goes with it] said the Roman Law. Provided that the requisite intent of permanent annexation is present, no physical attachment to the surface is required. A wall built of stones without mortar or foundation is part of the land on which it stands. Conversely, physical attachment, without the intent of permanent annexation, is not in itself enough. Carpets, tapestries, or ornaments nailed to the floors or walls of a house are not thereby made part of the house. Money buried in the ground is as much a chattel as money in its owner's pocket. Footnote 2: Unlike a chattel, a piece of land has no natural boundaries. Its separation from the adjoining land is purely arbitrary and artificial, and it is capable of subdivision and separate ownership to any extent that may be desired.
Mobile homes are not structures because they are not fixed to land. As such they can be interpreted as a permitted use, provided they remain mobile and can be towed away. As chattel, they do not commit land the way a building does. They are low impact solutions, provided the councils say yes.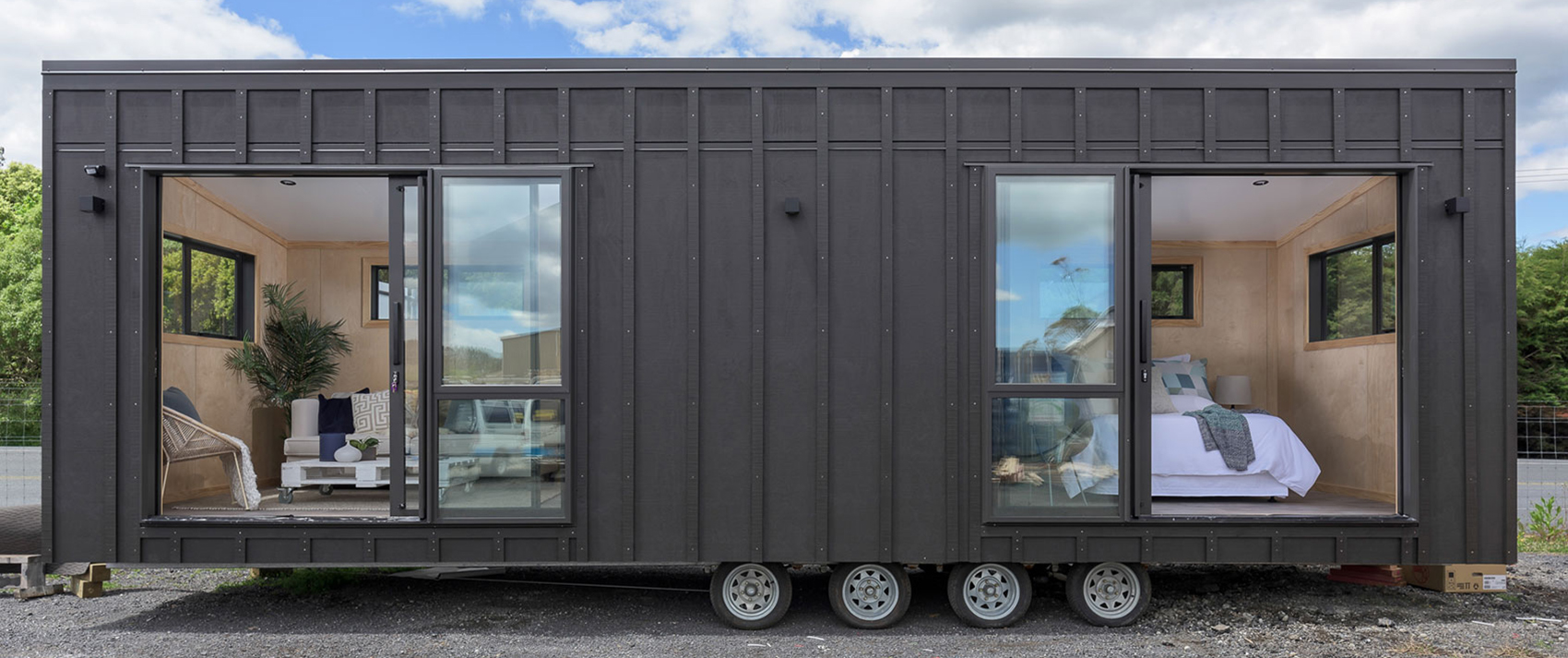 For clarity: A mobile home is made in a factory to a standard design. A tiny home on wheels may look the same, but it is a DIY design. See https://nztha.org for tiny homes.
Click the photographs to read more. To read like a book, start with the left photograph and then follow the link buttons